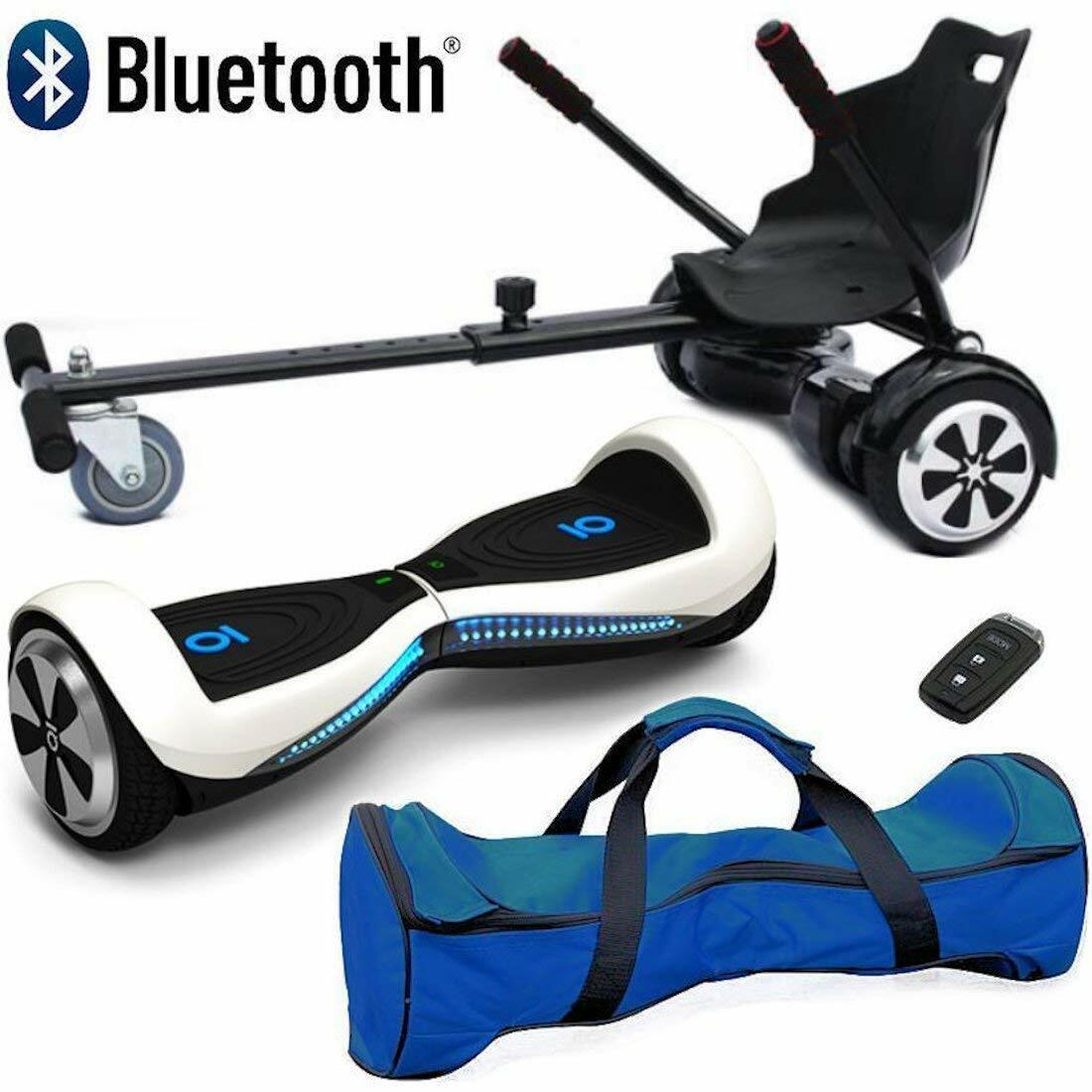 ADDITIONAL INFORMATION – HOVERBOARD
Great for beginners and advanced riders alike. This 2 wheel self balancing scooter / hoverboard comes fully UK compliant to give you and your family peace of mind, the hoverboard is built to last and comes with an extended 2 year warranty upgrade!
Manufactured specifically for use within the UK with a double insulated 13A BS approved charger for the 4400mAh LG Battery you can have hours of fun from a single charge. With a range of up to 20km and a maximum speed of up to 10km/h. Powered by two motors the Hover Board provides plenty of torque to carry you up inclines. The Hover Board features two lights on the front side of the board. This not only indicates when the motor is on but can also light your way in dark lighting when using the board. The Hover Board also comes complete with a remote key and carry case to transport the board and to store the board safely when not in use. With Bluetooth connectivity never ride in silence again!
ADDITIONAL INFORMATION – HOVERKART
Transform your Segway into an all new exciting electric gokart with this HoverKart attachment, allowing you to easily attach your board directly to the hoverkart and race around within seconds.
With basic control leavers, you can easily control the movement of your segway; forwards, backwards and left/right and the ability to perform 360 degree spins on the spot, pull wheelies and even drift!
Race your friends with this awesome Single strut frame with a choice of race styled seat or foam padded seat. Watch the front wheel light up as you ride along.
The Hoverkart can be used on different terrains that are often off-limits, such as short grass, dirt, packed sand and concrete, we advise not to use on any wet surfaces!
Fully adjustable to suit most sizes.
SPECIFICATION – HOVERBOARD:
Size: 6.5″
Max speed: 10-12 km/h
Range: 15km – 20km
Max Incline: 15-30 degree
Motor: 500w
Battery: LG, 36v, 4.4AH
Water / Dust rating: IP54 Rated
Weight: 13kg
Charge Time: 1-3 hours
2 Year Extended Warranty
CE, FC and RoHS Certified
Colours Available: Black, White, Red and Gold
SPECIFICATION – HOVERKART:
Adjustable Frame / seat position
Attach in second
Light up front wheel
Max weight – 120kg
Min User height – 100cm
Max user height – 200cm
PACKAGE INCLUDES:
1 x self balance scooter (with bluetooth)
1 x hoverkart attachment
1 x UK 3 pin changer
1 x Carry bag
1 x Remote key
1 x Instruction manual
2 Year extended warranty
Warning: It is illegal to ride electric scooters on public roads, pavements, or cycle paths. They are intended only for use on private land with the owner's permission.
Get Deal
Prices are correct at time of posting. Prices can change at anytime. Discount codes are active at time of posting. Discount codes can become inactive at anytime.
UK Deals And Giveaways use Affiliate links, This means we may earn commission from our links.
UK Deals And Giveaways is a participant in the Amazon Services LLC Associates Program, an affiliate advertising program designed to provide a means for website owners to earn advertising fees by advertising and linking to amazon.com, audible.com, and any other website that may be affiliated with Amazon Service LLC Associates Program. As an Amazon Associate [I or we] earn from qualifying purchases.
Everyone loves a great deal and we often search for hours on end to find the best uk deals, we spend time searching for the deal of the day, coupons or free delivery codes or maybe even a great price for something off your wishlist. Well fear not because you have found our amazing Top Uk Deals site called UK Deals and Giveaways, we share UK Hot Deals that will save your time and money!
UK Deals and Giveaways site is a brilliant website full of top uk deals, exclusive discount codes and even great giveaways too, you can win lots of toys, beauty stuff and so much more! Register now for free and you could save £1000's with our amazing deals.
We have a Facebook following of nearly 100,000 followers and post great hotukdeals uk every day from trusted sites as well as having thousands of registered users on our site. We are a lovely community for people who want to save money and time! We are posting 100's of Uk Hot Deals everyday see our homepage for the deal of the day.
UK Deals and Giveaways is a site that gives you all the Crazy Clearance deals as soon as they become available. The website is in categories which makes it easy to browse and find what you are looking for, and, as well as posting current deals uk and discounts, we also sometimes find 'misprices' and 'price glitches' as soon as they find them, giving you the chance to grab a crazy clearance that probably won't last for long, so be quick!
Make sure to join our facebook group for the latest deals the offer of the day and hotukdeals uk. If you love a ukdeal you'll love our Facebook group.
So for a ukdeal look no further than UK Deals and Giveaways.