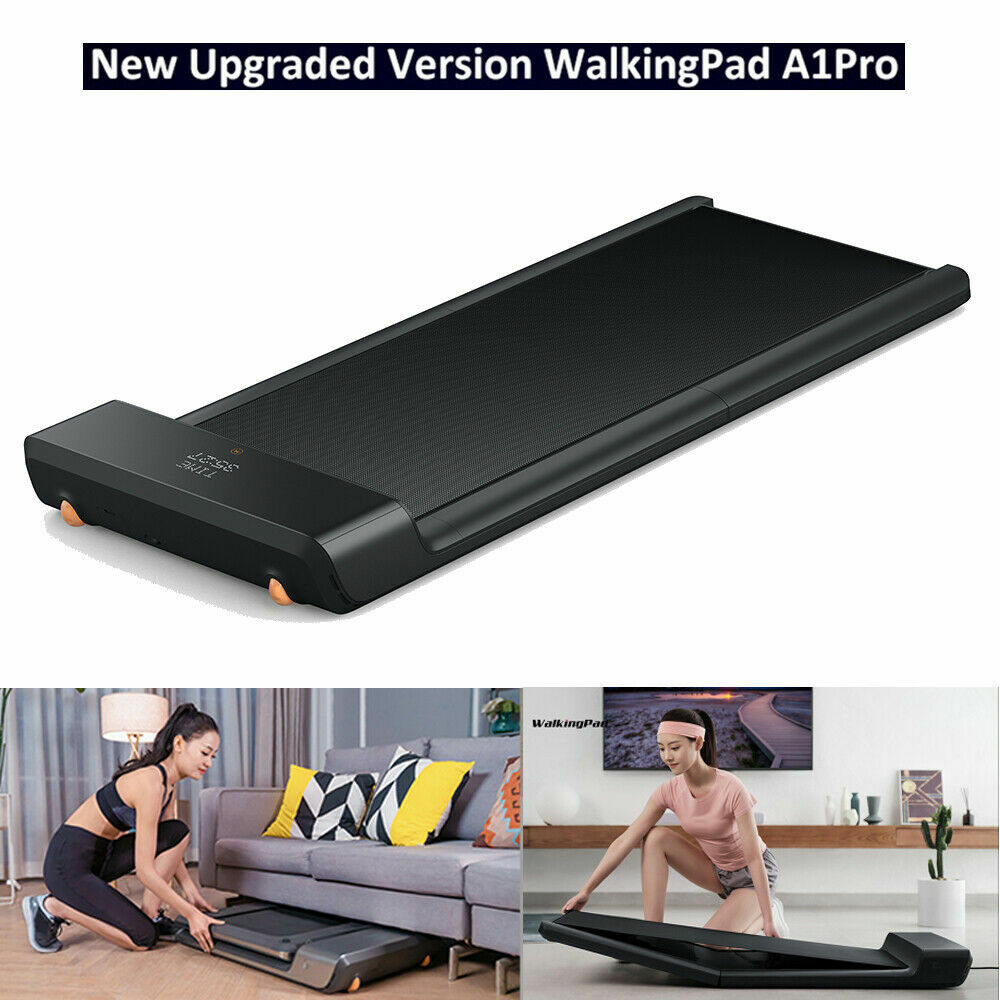 This walking pad is is silent, smart and sturdy to provide you a safe walking experience. It is foldable and compact which takes up little space, very convenient to store under the bed, desk or furniture, perfect for home and office.
Features:
Advanced pressure sensor monitors the movement area and user's pace to adjust the speed, which truly frees your hands. Speed range: 0.5km – 6km.
Manual and automatic modes selectable, use the remote controller for easy operation: Start, Accelerate, Decelerate, Switch modes, Stop.
Eye-catching LED panel displays data clearly for easy reading. Connect to your phone App for tracking your activities: steps, time, distance, speed, calories.
Safety Protection System: Child lock function; Overload protection; Automatic standby; Novice speed limit.
Sturdy aluminum alloy frame is lightweight yet strong enough to support maximum user weight up to 105kg (231lbs).
High-density fiberboard and buffer layer offer quiet walking experience without disturbing other family members.
Two wheels roll smoothly on the ground, allowing you to move the walking pad easily.
Foldable and ultra slim design for easy storage and space saving, perfect for home and office.
Specifications:
Speed Range: 0.5 – 6km/h (0.5-3.75mph)
Mode: Standby, Manual, Automatic
Rated Power: 746W
Rated Voltage: 100V/220V
Language: English, Chinese, Japanese, Korean, German, French, Italian, etc.
Weight Capacity: Max. 105kg / 231lb
Applicable Age: 14 – 60 years old
Walking Surface: 1200 * 415mm / 47.2 * 16.3in
Dimension: 1432 * 547 * 129mm / 56.4 * 21.5 * 5.1in
Folded: 822 * 547 * 129mm / 32.4 * 21.5 * 5.1in
Weight: 28kg / 61.7lb
Package Size: 90 * 63.5 * 19.5cm / 35.4 * 25 * 7.7in
Package Weight: 31kg / 68.3lb
Package List:
1 * Walking Pad
1 * Power Cord
1 * Remote Controller
1 * Lanyard
1 * Wrench
1 * Silicone Lubricant
1 * User Manual
Get Deal
Prices are correct at time of posting. Prices can change at anytime. Discount codes are active at time of posting. Discount codes can become inactive at anytime.
UK Deals And Giveaways use Affiliate links, This means we may earn commission from our links.
UK Deals And Giveaways is a participant in the Amazon Services LLC Associates Program, an affiliate advertising program designed to provide a means for website owners to earn advertising fees by advertising and linking to amazon.com, audible.com, and any other website that may be affiliated with Amazon Service LLC Associates Program. As an Amazon Associate [I or we] earn from qualifying purchases.