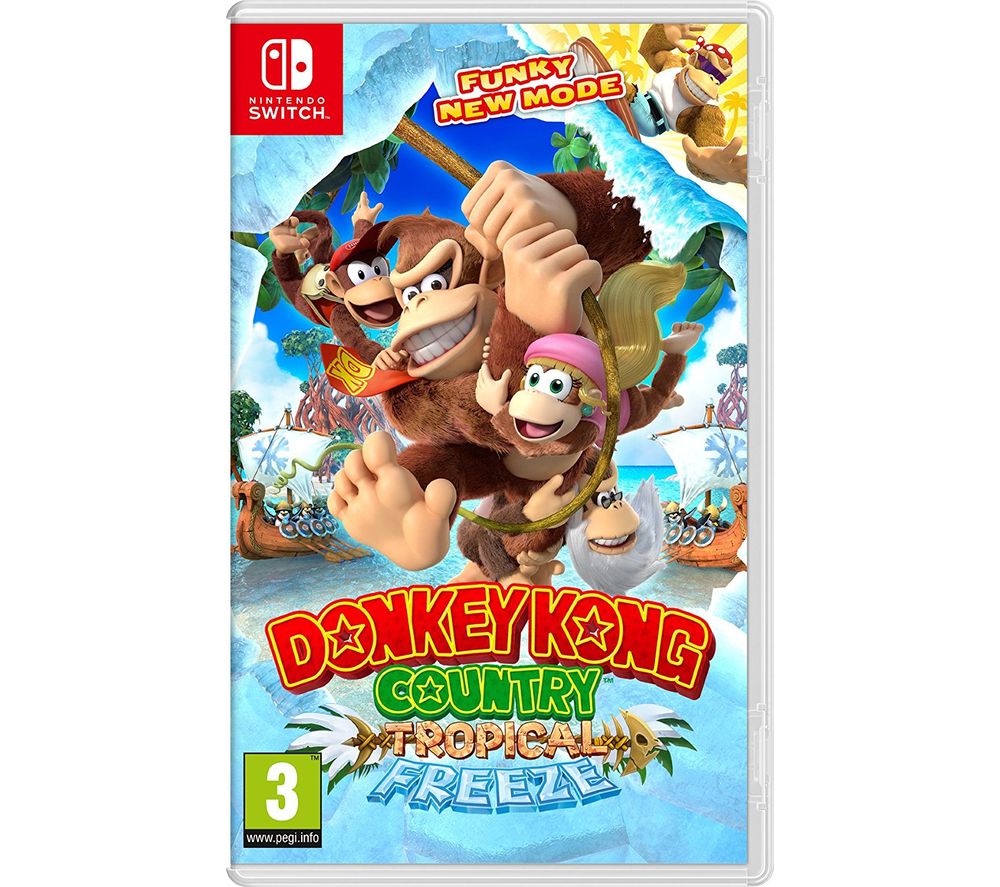 – Jump, roll and climb your way across five islands to defeat the Snowmads
– Unique moves with every character
– Co-op mode lets you play with a friend using just one Nintendo Switch
Jump, roll and climb your way across five islands

Save your favourite ape and his family from the Snowmads in Donkey Kong Country: Tropical Freeze for the Nintendo Switch.
Donkey Kong Island has been inhabited by Lord Fredrik and his army of Tucks, Fluffs, Hootzes and Waldoughs. With the help of a few friends, you'll have to battle your way through five islands packed with hazards, collectibles, and bosses, to take back DK's home.
Unique moves with every character

Explore every island using each character's unique moves to get out of sticky situations. Diddy Kong can ride on DK's back and use his jetpack, while Dixie can spin her ponytail into a propeller to access tricky areas.
For the first time ever, you can even play as Cranky Kong. Try using his cane to avoid spikes and other dangerous surfaces!
Co-op mode 

Bring a friend along for the adventure in co-op mode. Just pass one of your Joy Con controllers to your mate, and they'll be able to play as one of DK's trusty companions, helping you make it through every level.
Get Deal
Prices are correct at time of posting. Prices can change at anytime. Discount codes are active at time of posting. Discount codes can become inactive at anytime.
UK Deals And Giveaways use Affiliate links, This means we may earn commission from our links.
UK Deals And Giveaways is a participant in the Amazon Services LLC Associates Program, an affiliate advertising program designed to provide a means for website owners to earn advertising fees by advertising and linking to amazon.com, audible.com, and any other website that may be affiliated with Amazon Service LLC Associates Program. As an Amazon Associate [I or we] earn from qualifying purchases.