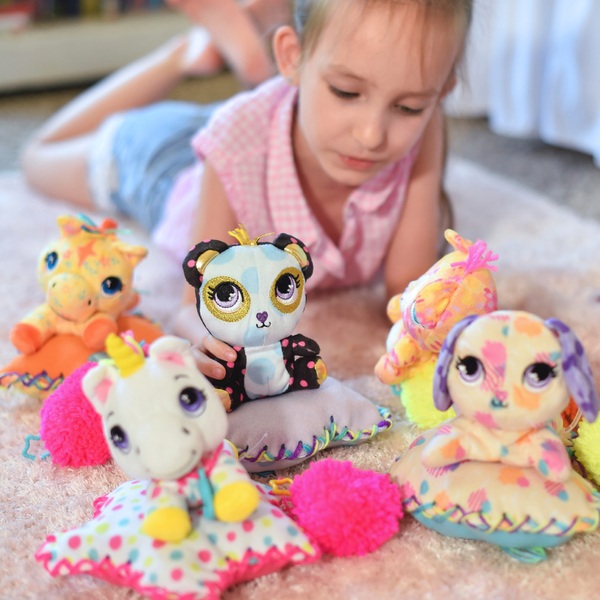 Get ready for the adventure of a lifetime with Ravel Tales! The newest and most innovative children's DIY collectible for kids 5 years +. The more you unwind the more you find. Ravel Tales takes the unboxing experience & surprise reveal to the next level! Start your journey by unwinding your yarn ball and uncovering 9 fun surprises along the way. An ultra cute collectible plush pet plus exciting craft activities bring loads of fun and hours of activity in one toy! Children can create 3 braided charm bracelets, 1 braided pet collar, 2 pom poms and a pillow bed. It all begins with the pull of a yarn string.
With every unwind there are more surprises to find, leading you closer to the collectible Ravel Tales soft toy character inside. Nothing is wasted! All parts of the unravelling reveals can be made into accessories for you and your pet! The fun never stops! With lots of button charms and different coloured yarn to find, children can mix & match colours, collect and trade with friends. Series one includes 12 assorted Ravel Tales characters. There's so many cute friends to find – Knittens, Button Bears, Purl Ponies and Pom Pom Pups too! Or will you uncover a Rare Raveller? Look for the special gold and sparkle details! Each sold separately.
Contents: 20cm thin yarn x 3, 30cm thin yarn x 1, 52cm thin yarn x 1, 41cm thin yarn x 1, plastic knitting needle, pom pom clip x 2, name tag necklace, pom pom maker, bracelet buttons x 3 soft toy, sticker, instruction manual, collector's booklet
Each playset contains 9 surprises including button charms, pet's name tag, stickers, sewing needle, collector card, pillow bed, yarn for pom poms and bracelet crafts and a collectible plush character
Create three fun friendship bracelets and a collar for your new pet
Show off your Ravel Tales collection and prove your crafting skills by creating 2 pom poms
Clip one to your bag or backpack and share the other one with a friend!
Sew together your pets' very own pillow bed for them to lay on
12 Ravel Tales to uncover, plus 2 Rare Ravellers with gold and sparkle details. Collect them all!
Colours and styles may vary
Dimensions: 5.5 x 3.5 x 8 cm
There are several styles available within this assortment and unfortunately it is not possible to request which one you would prefer.
Get Deal
Got a deal or giveaway you would like to tell us about? Share it here.
UK Deals And Giveaways use Affiliate links, This means we may earn commission from our links.
UK Deals And Giveaways is a participant in the Amazon Services LLC Associates Program, an affiliate advertising program designed to provide a means for website owners to earn advertising fees by advertising and linking to amazon.com, audible.com, and any other website that may be affiliated with Amazon Service LLC Associates Program. As an Amazon Associate [I or we] earn from qualifying purchases.